According to foreign media reports, the Toshiba's corporate research and development center in Kawasaki has developed a high-density TiNb2O7 (HD-TNO) composite electrode (composite electrode), the electrode is composed of micro TNO spherical secondary particles, the surface of the particles Carbon coating. It is said that the anode has excellent performance, long service life, and large battery capacity, which is more than twice the performance of the LTO composite anode.
The research team also used the HD-TNO anode and LiNi0.6Co0.2Mn0.2O2 (NCM) cathode to produce a large-size lithium-ion battery with a battery capacity of 49 Ah, which is suitable for automotive applications. The energy density of this cell is as high as 350 Wh L-1. When the state of charge (SOC) is 50%, the input-power density is as high as 10 kW L−1 and the duration is 10 second. In addition, in the fast charge mode, it takes less than 6 minutes to charge the battery from 0% to 90%. In comparison, the energy density of a comparable LTO / NCM battery cell is 177 Wh L-1.
High rate discharge tests (High rate discharge tests) show that at 10 times the capacity retention rate is as high as 93%. At 1x rate, the capacity retention rate is as high as 86% after 7000 charge and discharge cycles. It is estimated that after completing 14,000 charge and discharge, its capacity retention rate is 80%.
R & D personnel also use carbon coated micro TNO spherical secondary particles to produce high-density electrodes. The high tap density of the particles reduces the amount of carbon conductor and binder additives. .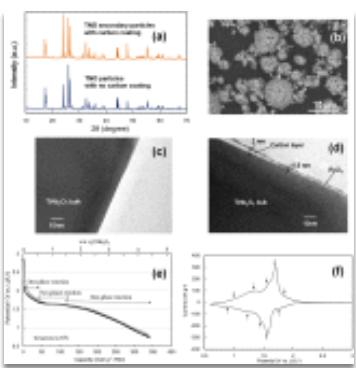 This column mainly shows the Excavator Travel Gearbox parts.
We are a professional manufacturer of hydraulic accessories for crawler excavators Professionally provided aftermarket customers with various brands of crawler Excavator Final Drive, Travel Motor , Travel Gearbox, Swing Device , Swing Motor , Swing Gearbox , Hydraulic Pump , Main Control Valve and other accessories.Strictly controlling the quality acceptance of each product Standards to ensure high-quality qualified export of each product.At the same time, we can customize the production services of the products through the drawings according to customer needs, and make every effort to make the perfect product in the mind of each customer.
If you want to know more about our products in more detail, please click on the product details to see more information about product quality, price, packaging, transportation, etc., or you can directly click on Contact Now on the page to talk to us directly. Looking forward to starting long-term business cooperation with you!
Travel Gearbox
Travel Gearbox,Travel Reducer,Travel Reduction Gearbox,Final Drive Gearbox,Excavator Travel Gearbox
Jining Juheng Hydraulic Machinery Co., Ltd. , https://www.juheng-cn.com