Contains:
115 Different Models
Transport Package:
Plastic Box
Specification:
AAA quality
Origin:
Guangdong, China(Mainland)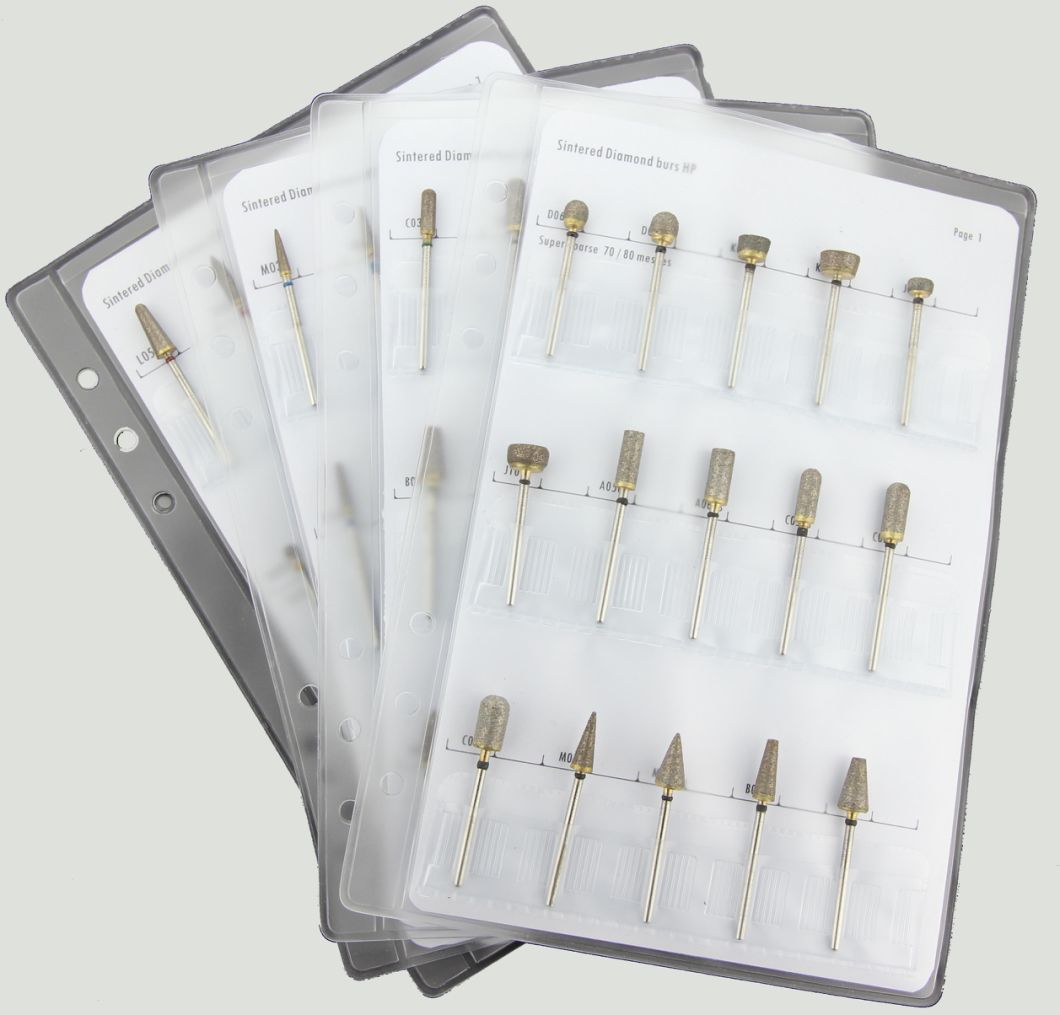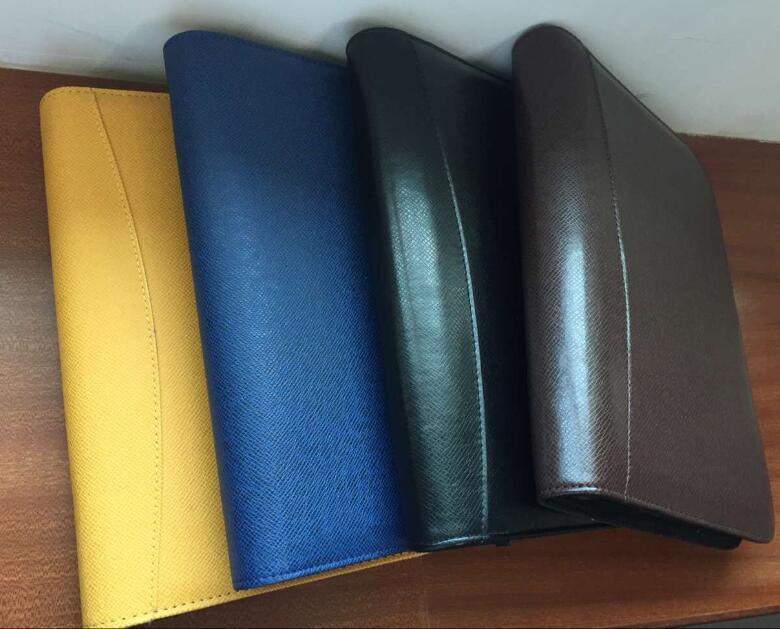 used to:Â alloy, metal, jewellery, stone, etc.
Product Description

Base on dealers' request, DIAN FONG designed these Sample Wallets for showing to customers. 
 
Packaging & Shipping

1. All Sample Wallets as shown in the catalog;
2. We offer OEM & CUSTOMISE service for these products;
3. Any special package request, please feel free to contact our sales person.
 
Company Information
Dian Fong Industrial Company Limited is professional dental supplies, we specialized in grinding, cutting, polishing and fine finishing tools for dental surgical & laboratory.
 
Our main products range from diamond burs, carbide burs, dental polishers, sintered diamonds, diamond disc, polishing brushes and mounted stone etc.
 
Welcome to download our catalog from our website: www.dianfong.com
 
And welcome to contact our sales person for more information.
Catalog: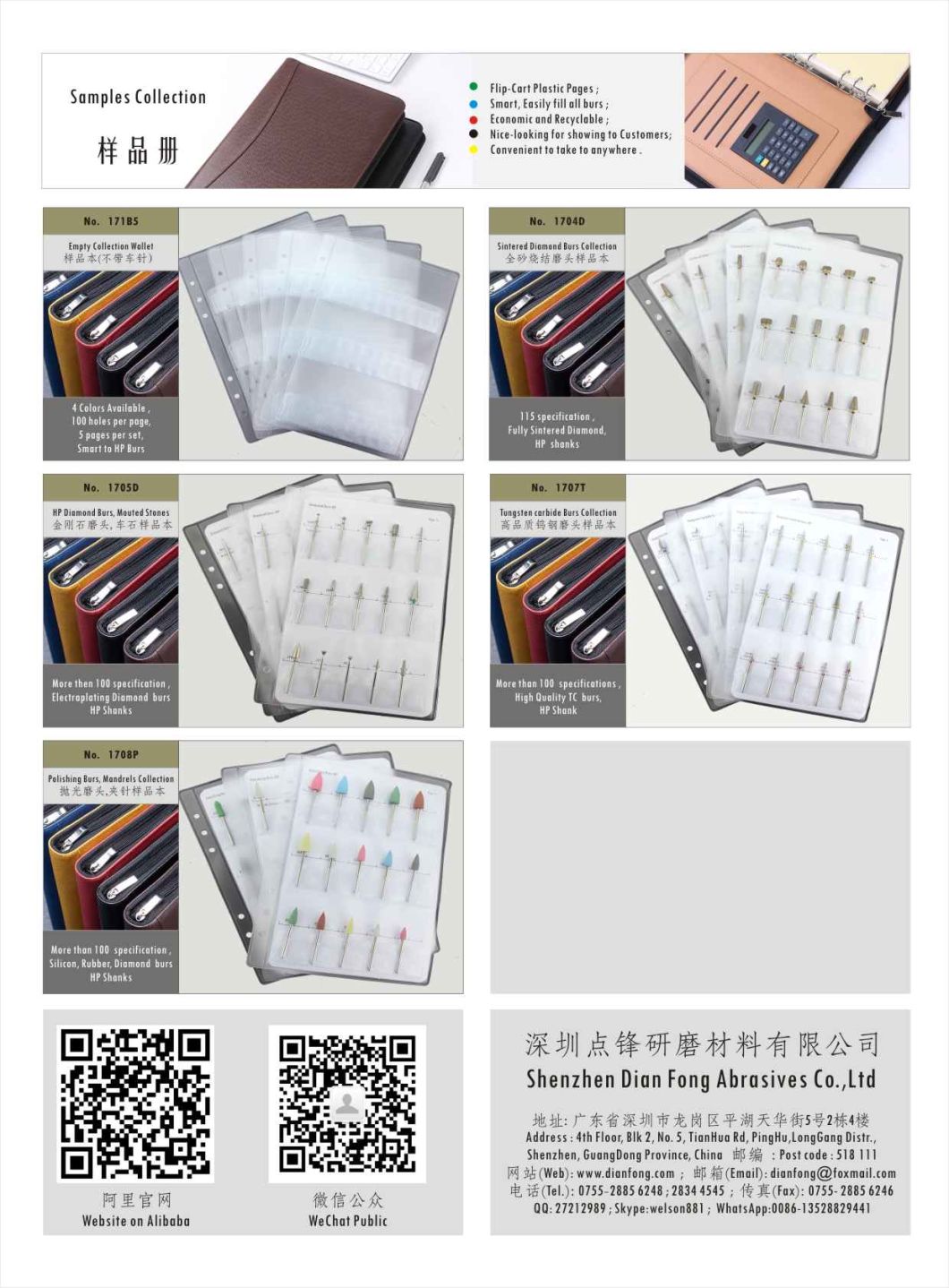 Another name:Ultrasonic steel pipe
Acoustic steel pipe is the channel that the probe enter into the interior of piles when we do the ultrasonic detection for the piles. It is an important part of ultrasonic detection system of piles, its embedded way in the pile and its layout form on the cross section of piles will influence the detection results directly. Therefore,in order to ensure the inspection work go on smoothly, for the piles to be detected, layout and embedded way of the acoustic tube should be marked on the drawings when technicians do the design, the quality of embedment should be controlled strictly in the construction.
ultrasonic tube has the only and specialized reliable system of ultrasonic detection in the market.After cold hard tube forming professionally, workers can use clamping connections,screw connections,flange connections and other connections to connect, it has reliable anti-seepage effect when concrete pouring.
Usually,the finished acoustic tube is to connect standard length steel tube has formed to a connection joint. A channel can be reserved to make the probe head access to the bottom of the pile foundation directly.
Types of Acoustic steel pipes:Clamp pressure ultrasonic tube, Sleeve welded acoustic steel pipe, Screwed acoustic steel pipes:
Size of Acoustic steel pipes:
| | | | | | | | | | | | |
| --- | --- | --- | --- | --- | --- | --- | --- | --- | --- | --- | --- |
| OD 50 | 50*0.7 | 50*0.8 | 50*0.9 | 50*1.0 | 50*1.1 | 50*1.2 | 50*1.3 | 50*1.4 | 50*1.5 | 50*1.8 | 50*2.0 |
| OD 54 | 54*0.7 | 54*0.8 | 54*0.9 | 54*1.0 | 54*1.1 | 54*1.2 | 54*1.3 | 54*1.4 | 54*1.5 | 54*1.8 | 54*2.0 |
| OD 57 | | 57*0.8 | 57*0.9 | 57*1.0 | 57*1.1 | 57*1.2 | 57*1.3 | 57*1.4 | 57*1.5 | 57*1.8 | 57*2.0 |
| | | | | | | | | | | | | | | |
| --- | --- | --- | --- | --- | --- | --- | --- | --- | --- | --- | --- | --- | --- | --- |
| OD 50 | 50*1.4 | 50*1.5 | 50*1.6 | 50*1.7 | 50*1.8 | 50*1.9 | 50*2.0 | 50*2.2 | 50*2.5 | 50*2.8 | 50*2.9 | 50*3.0 | 50*3.3 | |
| OD 54 | 54*1.4 | 54*1.5 | 54*1.6 | 54*1.7 | 54*1.8 | 54*1.9 | 54*2.0 | 54*2.2 | 54*2.5 | 54*2.8 | 54*2.9 | 54*3.0 | 54*3.3 | |
| OD 57 | 57*1.4 | 57*1.5 | 57*1.6 | 57*1.7 | 57*1.8 | 57*1.9 | 57*2.0 | 57*2.2 | 57*2.5 | 57*2.8 | 57*2.9 | 57*3.0 | 57*3.3 | 57*3.5 |
Acoustic Steel Pipe
Acoustic Steel Pipe,Clamp Pressure Acoustic Steel Pipe,Ultrasonic Steel Tube
Cangzhou Fixed Star Steel Co.,Ltd , http://www.fixedstarpipe.com